In the mood for some food with your movie? Check out these delectable films:
In the Drama DVD section at WPPL:
DINNER RUSH
The story takes place over the course of one night in one of New York's Italian restaurants. The restaurant is owned by an old-fashioned mobster named Louis Cropa, who prefers traditional Italian food, and finds himself at odds with the chef, his son, who would like to place a new spin on the cuisine. Another cook's gambling problem has brought a few unwanted gangsters into the restaurant, and of course there is a visit from a critic. "New York's hottest eatery is going to have a killer night".
In kanopy:
MUSHROOMS
A "deliciously dark gastronomic comedy", Mushrooms is the tale of a fugitive thief who stumbles into the residence of elderly charmers Flo and Minnie. Making inroads on the investigation and hot on the thief's trail, is Officer Instep, who also takes up lodgings in the next room - severely complicating any escape plans. But when a gas leak in the fugitive's room causes his untimely demise - Flo and Minnie, with a larcenous history of their own, will do everything in their power to keep the death of their harboured criminal under wraps from the veteran sergeant-in-residence... even if it comes to cooking up a few new recipes.
https://westlakelibrary.kanopy.com/video/mushrooms
In hoopla:
TOAST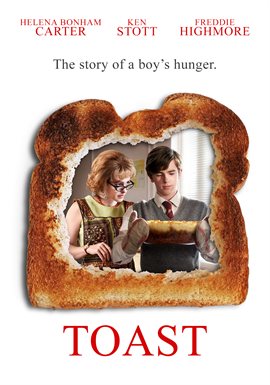 Based on the bittersweet story of food writer Nigel Slater's childhood, this film is a delicious love letter to the tastes and smells that a young boy associates with his journey into adulthood. Featuring Helena Bonham Carter as a semi-evil stepmother.