It may still be winter holiday season, but pretty soon it will be another favorite season - "Oscar season". The final 2017 movie releases will be out within the next two weeks and then award season will begin in earnest. Since many of the nominated and soon to be nominated films may not be available to view at home yet, here are a few titles which are available either at the library, from kanopy or hoopla, and offer a look into some of the behind the scenes activities in the making of a Hollywood film:
Available in WPPL's non-fiction DVD collection:
Harold and Lillian: A Hollywood Love Story (2015)
If you are interested in movie-making, Hollywood history, and the unseen players who help take films from script to screen, then this documentary is for you! A portrait of Harold and Lillian Michelson, a storyboard artist/production designer and a film research librarian, this film offers a fascinating behind the scenes look at the significant, yet largely uncredited, contributions this couple made to the movie business. The Michelsons left their mark on classics by Alfred Hitchcock, Steven Spielberg, Mel Brooks, Stanley Kubrick, Roman Polanski, and more.The film is also a love story and chronicle of a long-lasting Hollywood marriage.
Available on kanopy:
Casting By (2012)
This documentary focuses on the work done by casting directors for movies, and in particular profiles the work of Marion Dougherty. Marion Dougherty casted actors in film and television from the 1960's through the early 1990's. Out of her brownstone in New York City, Dougherty worked on many Hollywood films and was responsible for the start of many notable actors' and actresses' careers in film. The contributions of casting directors went unrecognized in film credits until the 1970's and there is no Academy Award category for casting directors. In 1991 many prominent filmmakers and actors, including Clint Eastwood, Woody Allen, and Al Pacino, attempted to convince the Academy of Motion Picture Arts and Sciences to grant an honorary award to Dougherty. A captivating look at a fascinating life and career.
https://www.kanopystreaming.com/product/casting-1
Available on Hoopla:
Trumbo (2007)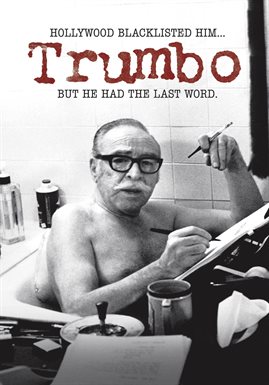 A feature-film adaptation of Christopher Trumbo's play about his father, the writer Dalton Trumbo, "Trumbo" documents the rise of Dalton Trumbo's career in Hollywood, and his subsequent public humiliation due to his being named among the "Hollywood Ten" blacklisted by the House Un-American Activities Committee in the 1940s for communist associations. As with the play, the film is based on letters written by Dalton Trumbo to his son Christopher. The titular character, rather than being portrayed by one actor, is portrayed by various celebrities narrating from the script. Home-movie footage from the Trumbo family is included, as are scenes from some of his films, and interviews with family members and friends.