cover_link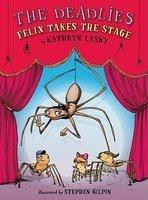 WordWeaver just met the neatest....
Posted June 30th, 2010 by WordWeaver
Printer-friendly versionSend to friendPDF version
and the scariest spider family, ever! The book is THE DEADLIES: FELIX TAKES THE STAGE by Kathryn Lasky. This is a new series by Newbery Award winning author Kathryn Lasky. You might have read her ultra popular series, GUARDIANS OF GA'HOOLE which have over four million copies in print.
Think of a family with a very loving Mother and three very smart, active children. They sound like any other family, except.......they are very poisonous brown recluse spiders! Believe it or not, all they want in the world is a nice, quiet, out-of-the-way home. They wouldn't dream of harming anyone.
Unfortunately, Felix has a run in with the symphony music conductor on stage in the theater they reside in and his family has to run away after the conductor's collapse. They know they will be blamed even though it was an accident.
With the help of Fatty, a cat who protects them they run to a dusty antique shop. While that works as a home for awhile, they have a scary run in with some mean pirate spiders. Off they go again across county on a bus. Will they ever find a safe place to settle down? Will Felix get to learn more about art and music? Will his lost leg grow back? Read and find out more about the adventures of this very special famly. You'll even start to like spiders!